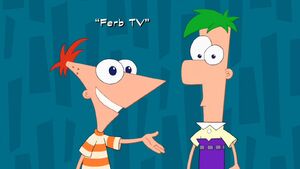 Phineas and Ferb create a cable called Ferb TV which features many TV shows that parody real shows. Baljeet stars in a show called Doctor Ninja Baljeet, Buford stars in a cooking show called Your cooking STINKS and so do YOU!, and Suzy, Jeremy and Norm appear in a sitcom named That's the Norm. Meap stars in a commercial for Meap's carbonated goulash. Roger Doofenshmirtz appears in a show called Katt-Karr.
Read the full summary...
Shows
Dr. Ninja Baljeet
The Klimpaloon and Giant Floating Baby Head Hour
That's the Norm
Your Cooking STINKS and so do YOU!
Katt Karr
Ducky Momo
Dancing with the Bears
News
Commercials
Meap's Carbonated Goulash
Fireside Girls commercial
Other Scenes
Opening
Ending
To return to "Ferb TV" and read the full episode summary, click here.
Community content is available under
CC-BY-SA
unless otherwise noted.