I need better clips.
This gallery needs more pictures. Please add more HD/HQ screenshots.
Once there is a sufficent number of pictures on the gallery, this can be removed. (November 27, 2011)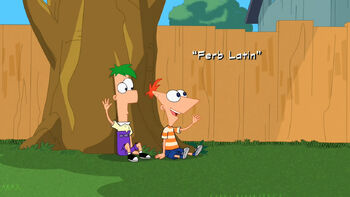 Phineas and Ferb create their own language, Ferb Latin, which quickly catches on. Unfortunately for Candace, she awakes from a massage puzzled to find everyone else speaking a language she doesn't understand. Meanwhile, Dr. Doofenshmirtz decides to use propaganda as his new "-inator," believing that it will work since people will believe anything they read.
Read the full summary...
Images from Ferb Latin
To return to the "Ferb Latin" episode summary, click here.
Community content is available under
CC-BY-SA
unless otherwise noted.