My schedule is totally blown! I am going to miss my polka recital!
The gallery is/are not in order and is in need of organization. Please fix this. (January 20, 2013)
I need better clips.
This gallery needs more pictures. Please add more HD/HQ screenshots.
Once there is a sufficent number of pictures on the gallery, this can be removed.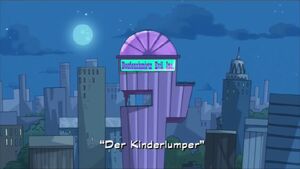 The boys create Rutabaga-themed vehicles when Candace is chosen to be Rutabaga princess and gets to start the "Running of the Chinchillas". Across town, Doofenshmirtz plans to turn himself into a real live Kinderlumper to scare Roger into relinquishing control of the Tri-State Area over to him.
Read the full summary...
Gallery
Candace as Rutabaga Princess
Other
To return to the "Der Kinderlumper" episode summary, click here.
Community content is available under
CC-BY-SA
unless otherwise noted.