I need better clips.
This gallery needs more pictures. Please add more HD/HQ screenshots.
Once there is a sufficent number of pictures on the gallery, this can be removed.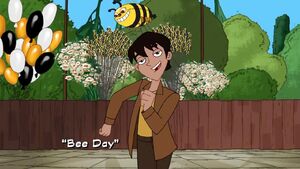 The boys make a giant inflatable wading pool for Mom. Meanwhile, Candace reveals her "Emo" side, and Doofenshmirtz attempts to become ruler of all bees.
Read the full summary...
The drive home
Agent Bee's Briefing
Candace is an Emo Teen!
Advice for Isabella
The Aroma-nator
Enter Emo Candace
The loan and work continuation
Linda meets Emo Candace
The Wading Pool
Charlene's Visit
Plan Bee
More of the Wading Pool
Wading Pool Party
To return to the "Bee Day" episode summary, click here.
Community content is available under
CC-BY-SA
unless otherwise noted.