A Doonkelberry is a berry fruit that usually grows in Drusselstein.
Uses
Doonkelberries are small round berries and come in dark and light purple similar to blueberries. In Drusselstein, Zengle's Fruit Stand seems to supply the world with Doonkelberries, because as Zengle puts it, he has his "own Doonkelberry field, and if [he] needs more [he] can pick more" ("The Doonkelberry Imperative"). Like any kind of fruit, it can be use in cakes and pies.
Cake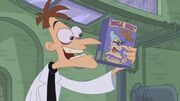 Heinz Doofenshmirtz learned that Doonkelberry Bats enjoy Doonkelberries when he received a Doonkelberry cake for his fifth birthday and bats swarmed to it when he carried it home uncovered. As an adult, he used a large bowl of "Dookle Berry Cake Mix" to trap Agent P as part of getting the citizens of Danville to help him celebrate his birthday. ("Raging Bully")
Pie
It seems that Linda uses Doonkelberries for her pies (possibly the pies that she offers to the kids at the end of the day as snacks). It is also Phineas and Ferb's favorite kind of pie ("The Doonkelberry Imperative").
Background Information
The name of the berry is pronounced "doonkelberry". The package spells it as two words without the "N" (Dookle Berry).
The woman pictured on the box is similar in appearance to Heinz Doofenshmirtz, but is not stated to be a relative of his.
The word "Doonkelberry" could have been derived from the German word "Dunkel" meaning "Dark" but this is contradictory to the berry's true color.
References
Community content is available under
CC-BY-SA
unless otherwise noted.