Don LaFontaine (August 26, 1940 - September 1, 2008[1]) was a famous voice actor, known for his over 5000 film commercials, along with over 750 thousand television commercials, video games, and other narrations. In his final role, LaFontaine was the Movie Voice-Over voice for the opening and closing narration of Season 2 episode "The Chronicles of Meap." Phineas and Ferb creators Dan Povenmire and Jeff "Swampy" Marsh as well as their staff honored him with a tribute at the end of the episode.
Early life
Born to Alfred and Ruby LaFontaine in Duluth, Minnesota, Don entered this world on August 26, 1940. At the age of 13, his voice cracked mid sentence, and therefore became an iconic base tone he is now famous for. He graduated high school and enlisted in the Army, as he worked as a recording engineer for the Army Band and Chorus.
Career
Don began work in the 60s, portraying many roles, including Dr. Strangelove and Gunfighters of Casa Grande. In the 70s he became the head of Kaleidoscope Films Ltd., a major movie trailer producer before starting his own company, Don LaFontaine Associates, which began in 1974. He was as well the narrator of The Making of Star Wars in 1977.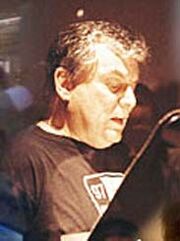 In 1978 he was asked to join Paramount Pictures, heading up the trailer department. Over the next three years, he became literally the "Voice" of Paramount. In 1980 he was named Vice President, but he missed being involved in active production. He left Paramount in 1981 and moved from New York to Los Angeles, again as an independent producer. One of his first phone calls was from a young agent named Steve Tisherman, who urged LaFontaine to pursue voice-overs more aggressively. He signed with Steve Tisherman, and never looked back.[2]
Don began doing many commercials, and would regularly use the phrase "In a world..." Later, in 2007, he explained the origin of the phrase:
| | | |
| --- | --- | --- |
| " | We have to very rapidly establish the world we are transporting them to. That's very easily done by saying, "In a world where… violence rules." "In a world where... men are slaves and women are the conquerors." You very rapidly set the scene. | " |
Don eventually reached a minimum of 60 voices a week, and even 35 a day on some cases. LaFontaine began getting a larger amount of money for his works, and reportedly received millions of dollars a year.[3]
His first on-screen role was in 1982, acting as a Reporter in the movie Time Walker, and a year before moved to Los Angeles. In the 2000s, Don began working on game shows and news broadcasts, either as a voice over or (in the case of Jeopardy) an actual live-guest. GEICO began airing commercials in 2006, in which people would explain their actual experience with the company, and LaFontaine took part in one. He was titled as "that announcer guy from the movies," but a subtitle labeled him as his real name. This was a very important to Don, as he had been for the first time specifically named and shown in a role for the first time. On his website he quipped, "This spot has changed my life. There goes any anonymity I might have had..."[4]
Filmography
In his years, Don LaFontaine voiced a total of over 5000 voice overs for film commercials, and hundreds of thousands of other commercials. LaFontaine memorably did several famous movie trailers, highlighted on his personal website, including Shrek, Friday the 13th, Terminator 2: Judgment Day, and Batman Returns. His favorite to work on (as stated by him in 2007) was for The Element Man, though according to a response to the question on his website, he had several trailers which stood out in his mind, and he didn't like to choose one.[5] He also did a plethora of narrations for television show, likely most famously for JAG. He also narrated Disney Channel Original series Filmore!, appeared as a guest on several episodes of Jeopardy, voiced the narrator of the 2003 video game Medal of Honor: Rising Sun, and so much more.
Death and legacy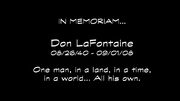 LaFontaine was sent to the hospital for a blood clot in his lung on Friday, August 22, 2008. By that Tuesday, he was reported to be in critical condition, and his family set out for everyone's prayers on the website Mediabistro.com. But on September 1st, 2008[1], Don died from complications of pneumothorax, and was buried at Hollywood Forever Cemetery in Los Angeles, California.
LaFontaine's voice and narration was famous, and was parodied or referenced in a multiple of shows, including commercials for The Powerpuff Girls. His deep, legendary voice has inspired many current voice overs and narrators, and is similar in many current movie commercials.
The Season 2 episode entitled "The Chronicles of Meap" had a narrator who's voiced by LaFontaine. On the air, the episode ended with a memorial card shown in the credits, with Don's voice saying "In a world....there, I said it, happy?"[1]
Background Information
Because Don LaFontaine must have recorded his part for Phineas and Ferb before he was hospitalized, it puts the production of "The Chronicles of Meap" back to at least the middle of August of that year, nearly eight months before it finally aired on Disney XD.
Footnotes
External links
Community content is available under
CC-BY-SA
unless otherwise noted.