This article pertains to a topic that is thought to be non-canon.
Disney's Phineas and Ferb: The Best LIVE Tour Ever! (referred to in advertising as Disney's Phineas and Ferb LIVE!) was a live stage show produced by Feld Entertainment under license from Disney which toured North America from August 2011 to May 2012. After a summer vacation of their own, the tour resumed on August 19, 2012, ending in Chatanooga, Tennessee on February 17, 2013.
The show premiered at the Lakeland Center in Lakeland, Florida on August 21, 2011. The ninety-minute show featured live actors in costumes for the characters. Some were full body suits, including Phineas, Ferb, Buford, Dr. Doofenshmirtz, and Perry. Others, including Candace, Jeremy, Isabella, three Fireside Girls (Katie, Gretchen, and Milly), and Baljeet, wore costumes that resemble the character's clothing and masks with the character's haircuts and large goggles for eyes. A few backup dancers and a henchman for Dr. Doofenshmirtz also appeared.
The show featured one original song written for the production, while the rest were re-worked versions of the songs from the television show made to fit the characters singing them. Dr. Doofenshmirtz also sung a medley of Broadway hits, including The Impossible Dream from Man of La Mancha and One from A Chorus Line.
Plot
Act I
The show begins with the curtain opening, and an animated Phineas and Ferb are shown on a big screen, sitting in their backyard. Phineas is sad that it is the last day of summer, and says that they need a new invention to make it the best day ever. The two both notice the audience in front of them, and run into the screen. Ferb notices a slide that brings them to the stage. Both slide down, and a live action Phineas and Ferb in costume appear. They both decide to put on the best live show, and sing an exclusive song. The rest of the cast (Isabella, three Fireside Girls - Milly, Gretchen and Katie, Buford, Baljeet, Candace and Jeremy) join them on stage. Candace tries to bust Phineas and Ferb, but ignores the urge due to Jeremy being there. Phineas then asks "Where's Perry?".
Meanwhile, Agent P appears, beats up some generic bad guys while the gang sings a medley of two songs. Then Perry gets his mission from an animated Major Monogram to stop Dr. Doofenshmirtz and his Audience-Controllinator. It's revealed that Doofenshmirtz has always wanted to perform in a Broadway musical, but cannot due to his lack of talent. With his Audience-Controllinator, though, he will be able to force to people to admire him. He then launches into a medley of Broadway show tunes. The canes used by Doof and his backup dancers (known as "The Goonettes") eventually become the bars for a trap for Agent P.
Phineas, Ferb, and the rest of the crew then start brainstorming about what to do for their show. Ferb suggests a beach, which everyone agrees to, because a beach will help them think of something to do their show about. This leads into the song "Backyard Beach". Then, they end up having so many ideas, that Phineas and Ferb decide to make an idea mash up machine, which will combine their ideas. When the machine breaks down, and because everyone is sitting down for a long time so they decide to give the audience a break for intermission.
Act II
After intermission, some small kids are brought on stage from the audience selected near the end of intermission by three of The Goonettes to test the Audience-Controllinator. Dr. Doofenshmirtz commands them to dance, and they do. Then, the Audience-Controllinator isn't working on the whole audience, and needs a few adjustments.
As the curtain opens, Phineas and Ferb begin mashing up ideas. First, Isabella's marshmallow roasting idea and Buford's monster truck idea are combined to make a monster truck with marshmallows for tires, but not before Phineas & Ferb appear in marshmallow-tired go-carts. The song "Truck Drivin' Girl" is re-purposed as "Truck Drivin' Boy". They then add in Baljeet's Bollywood idea to launch into another musical number. Phineas' miniature golf idea and Jeremy's desire for disco are combined, and the song "Disco Miniature Golfing King" (originally "Disco Miniature Golfing Queen" in the television series) plays. Giant beach balls that look like golf balls are launched into the audience. Candace then wants her idea presented by herself, which is to try on pants. She finally finds the perfect pair, bringing on the songs "Fabulous". Now satisfied, she allows her idea to be combined with the Fireside Girls' idea about cute furry animals, resulting in the song "S.I.M.P. (Squirrels In My Pants)". Before Phineas and Ferb can then combine everybody's ideas, the machine breaks, and they need a new handle for it.
Back to Doof and Perry, where Perry escapes from his trap, and the final battle between him and Dr. Doofenshmirtz ensues (parodying The Matrix and Star Wars at some points). Perry eventually manages to win the fight and defeat Doofenshmirtz. Phineas and Ferb come across the Audience-Controllinator, and discover that a part of it is just the right size to fix their machine. Upon discovering the Audience-Controllinator's true purpose, they decide to control the sun so that it never goes down and summer can truly last forever. The cast launch into "Summer Belongs to You", with "Follow the Sun", as the curtain call.
Transcript
Read the transcript of Disney's Phineas and Ferb: The Best LIVE Tour Ever!.
Songs
Act I
Act II
Pre-show, intermission, and post-show
"Backyard Beach"
"Busted"
"Gitchee Gitchee Goo"
Pre-show Trivia
"Backyard Beach"
"S.I.M.P. (Squirrels In My Pants)"
"Perry the Platypus"
"Busted"
"Everything's Better with Perry"
"Platypus Walk" (Returning Tour)
Gallery
View the image gallery for Disney's Phineas and Ferb: The Best LIVE Tour Ever!.
Running Gags
The "Too Young" Line
None.
Ferb's Line
Phineas: You know, Ferb, Perry is really something especial.
Ferb: He's the finest semi-aquatic egg laying mammal on the Earth.
Ferb
: Beach party.
Phineas: Great idea, Ferb! A beach party will help us think of an idea for our show!
Ferb: Actually, I was thinking the beach party would be the --
Jeremy: Hey, yeah, a day at the beach always clears my mind.
Ferb: No, what I meant was --
Baljeet: Oh, I would be able to come up with an excellent idea if we have a beach party.

Ferb
: Oh, never mind! Give me the mic.
Phineas: Wow, that's convenient. What are the chances in finding this?
Ferb: Probably 1%.
Phineas: I believe that is exactly what I said. Watch this!
Ferb: Fire at will.
Phineas: This was the best show ever!
Ferb: Agreed.
(sings in "Gonna Put On A Show!", "Everything's Better with Perry" and "Backyard Beach")
What'cha Doin'?
(Isabella, Gretchen and Katie enter to the screen, seeing Phineas and Ferb outside it)
Isabella
: Hi Ferb, hi Phineas, what'cha doin'?
Phineas and Isabella
:
(Line in song)
♪
Tell me whatcha wanna do today
♪
I know what we're gonna do today
Phineas: Wait a minute. Ferb, I know what we're gonna do today! We're gonna put on the coolest live show ever for this audience.
Hey, where's Perry?
Candace
: Alright, Phineas, now that we're all here, "Working as a team"...
Phineas
: Wait! We're not all here! Where's Perry?
Oh, there you are, Perry
None.
Perry's entrance to his lair
In the screen the lair appears and live Perry watches Major Monogram from outside.
Evil Jingle
Doofenshmirtz Evil Incorporated!
Background Information
Based on the events, this show takes place after the series.
Most of the vocals for some songs are kept, while others were changed.
Vanessa, Carl and Lawrence are the only main characters that do not appear, while Stacy was only mentioned and Linda was heard but not seen.
This live show is considered non-canon in the Phineas and Ferb universe, as seen in "Last Day of Summer" which documents the true 104th day in the show's timeline (and is the series finale).
The animation sequences shown on the screen behind the stage were animated with Adobe Flash.
Continuity
Production Information
From the official press release:[1]
Hit Disney Channel Series "Phineas and Ferb" Reaches New Heights, Inspires Stage Show, Disney's Phineas and Ferb: The Best LIVE Tour Ever!

Danville Tri-State Area Gang Comes to Life to Bring Ultimate Live Stage Show to More Than 80 U.S. Cities
VIENNA, Va., May 11, 2011 -- Phineas and Ferb are gonna do it all! Disney Channel's animated gem, the critically acclaimed "Phineas and Ferb," TV's #1 animated series among Tweens 9-14 for three years running, has reached a new pinnacle by inspiring an exciting live touring stage show which will play more than 80 hometowns across the country beginning in August.
Produced by Feld Entertainment, Disney's Phineas and Ferb: The Best LIVE Tour Ever!, brings Phineas, Ferb, Candace, Isabella, Baljeet, Buford and friends to the stage as they make the most of the last day of summer by building an invention bigger, better and more amazing than ever. Before anyone can wonder "Hey! Where's Perry?," the pet platypus dons his Agent P fedora, and hilarious hijinks unfold as he battles Dr. Doofenshmirtz to save the Danville Tri-state area and audiences everywhere from the evil scientist's most havoc-wreaking scheme to date.
"Disney Channel has created an extraordinarily popular TV series that offers humor for multiple generations and I am thrilled that Feld Entertainment is bringing Disney's 'Phineas and Ferb' to the stage for the very first time," said Producer Alana Feld. "The dynamic characters, witty humor and inspired music from the television series set the perfect foundation for Disney's Phineas and Ferb: The Best LIVE Tour Ever! to create an unparalleled Phineas and Ferb experience for audiences."
"We are filled with a great sense of pride over this upcoming live tour and are especially thrilled with the achievements of the Feld creative team which has produced a smart, interesting and funny stage show, that extends the characters, stories and comedy that are at the heart of what we do every day," said "Phineas and Ferb" co-creators Dan Povenmire and Jeff "Swampy" Marsh.
Audiences will be whisked on a high-energy ride that is part action adventure and part rock concert, while they move it and shake it to a soundtrack of hit songs from the animated series, including "Gitchee Gitchee Goo," "S.I.M.P. (Squirrels In My Pants)," "Backyard Beach (song)," "Everything's Better with Perry" "Busted," "Today is Gonna Be a Great Day," and "Summer Belongs to You." Familiar songs serve as a main ingredient in the plot, advancing the story from scene to scene, while taking on a whole new feel when fused with fresh, original choreography and inventive special effects.
Sponsors
Kaplan Kids (August 2012-February 2013)
Show Dates
Main article: Disney's Phineas and Ferb: The Best LIVE Tour Ever!/Show Dates
Merchandise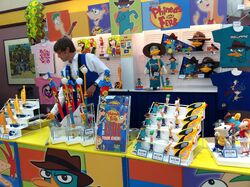 Available merchandise that was exclusive to the tour included:
On-site photos with Phineas and Ferb standees against a backdrop of their backyard.
Mug for snow cones with Agent P's head and fedora for the cover.
Mug for snow cones with Phineas, Ferb and Agent P on the sides.
Agent P disguise kit, with fedora and glasses.
Perry tail.
Hats:

Phineas hat with red foam hair mimicking Phineas' traditional look.
Ferb hat mimicking Ferb's hair.
Agent P hat with Phineas and Ferb logo on the left side and Perry on the right.

Sunglasses with flashing lights.
Rotating Illuminator.
Ray gun with sound effects.
Light stick.
4½" "twirl pop" lollipop with an Agent P sticker on the plastic covering.
Plushies (Small and Medium) of Phineas, Ferb and Perry the Platypus, and a small plush Perry purse.
T-shirts:

"Beware the Stare" Agent P shirt for both kids and adults.
Phineas and Ferb "Let's Rock" shirt.
Tour T-shirt with 2011-12 tour stops.
Candace standing in front of a pattern with various circles in it.
Isabella standing in front of a spiral.

Agent P felt pennant.
Isabella felt sign mounted on a stick with the slogan "365 Days of Summer!"
A pillow with Isabella's picture on a pink background with purple asterisks.
Phineas, Ferb and Agent P figures.
An secret agent kit with invisible and revealing pens and a magnifying glass in a tin lunchbox.
Light-up tambourine and cup.
Other merchandise related to the Disney LIVE! tours, such as coloring books and a trumpet.
Cast
Performers
Role
2011-12 season
2012-13 season
Phineas
Adrian Baez
Ferb
Nicholas Bouthilette
Candace, Dancer 1
Bailey Callahan;
Sophia Anthony
(Mexico City)
Demi Ahlert
Baljeet, Dancer 2
Valen Casilla
Buford, Dancer 3
Justin Kouns;
Michael Hernandez
Justin Murdock
Isabella, Dancer 4
Emily Derrick
Rebecca Hutt
Milly, Dancer 5
Nicole Dalton
Emily Derrick
Gretchen, Dancer 6
Erica Turpin
Chandler Dawes
Katie, Dancer 7
Julianne Jouglard
Natalie Freeman
Jeremy, Dancer 8
Jake Voelz
Morris Beyada
Diva #1
Diana Reed
McKenzie Callahan
Diva #2
Gabrielle Goewert;
Dianna Castronuevo
(Mexico City)
Nicole Dalton
Dr. Doofenshmirtz
Bartley Mullin
Brady Swanson
Perry
Tiffany Westfall;
Dani Lovello
(Mexico City)
Tiffany Westfall
(Aug.-Oct. 2012);
Hilary Kadoya
(Oct. 2012 onward)
Goon
Angel Anthony Hernandez
Anthony Gonzalez
Voices
Production Team
Alana Feld - Producer
Kenneth Feld - Producer
Fred Tallaksen - Director/Choreographer
Bradley Zweig - Writer
Rick Papineau - Scenic Designer
Cynthia Nordstrom - Costume Designer
Sam Doty - Lighting Designer
Mike Avila - Music Director
Paige Johnson - Gymnastic Coach/Acrobatic Choreographer
Brett Van Fleet - Company Manager
Michelle "MJ" Johnson - Stage Manager
James Shea - Performance Director
References