Daniel Kingsley "Dan" Povenmire[2] (born September 18, 1963) is an American television director, writer, producer, storyboard artist, and actor associated with several animated television series. He is one of the creators of Phineas and Ferb. Born in California and raised in Mobile, Alabama,[3] Povenmire attended USC Film School. At USC, he wrote and drew a cartoon for The Daily Trojan called "Life is a Fish." In addition to being the co-creator and executive producer of Phineas and Ferb, he also performs the voice of Heinz Doofenshmirtz on the show.
In addition, Povenmire has been one of the main songwriters since the beginning of the series, along with co-creator Jeff "Swampy" Marsh and fellow writer Martin Olson.
Povenmire was previously known for his work on Rocko's Modern Life and Family Guy. He was a well-loved animator on the latter and was given most of the show's musical numbers to do. He was also counted on to animate "something funny" when writers couldn't come up with a visual joke on their own. He described his job before Fox resurrected the show as "basically entertaining themselves" as a production staff.[4]
Early life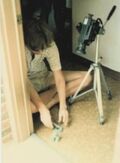 Dan was born in California, but raised in Mobile, Alabama. Dan was a very creative child; during the summers, his mother always told him and his siblings that "Summer didn't last forever" and to experience every minute of it."[5]
Dan did so. He took an interest in film making, constructing his own mini-films with his Super 8 camera, and draping black material through their living room as a backdrop for his space films. He would use rockets and other toys to act out the movie. Other activities he took part in was digging a hole.[6]
Dan was a childhood prodigy in art, as well. When he was two, he started to draw, and by age 10, he was displaying and selling his work in art shows.[7] His inspirations animation-wise growing up were The Rocky and Bullwinkle Show and Looney Tunes.[8]
Education
Dan attended the University of South Alabama, concurrently making a living waiting tables and acting. He also started a comic strip. He was interested in film making, so he left that university and transferred to the University of Southern California (USC). There, his comic strip Life is a Fish became a hit, though not without struggle; when he first pitched it to Daily Trojan editor Mark Ordesky, he "brushed him off." However, after seeing Povenmire's portfolio, he later did ask Povenmire to start making the strip for the paper.[7]
The strip continued to run everyday in the paper. Povenmire never ran out of idea, however, and was able to gain $14,000 selling Life is a Fish T-shirts, books, and even calenders at the campus craft fair. Povenmire, however, dropped out of USC.[7]
Career
Early works
Now out of school, Povenmire used the money he made from Life merchandise to support himself, and got a job as a street caricature artist to help. He received a call from an old friend from USC, who wanted him to help him with an animation. Tommy Chong eventually called him, asking him to do two minutes of animation for his new film Far Out Man.[7]
By the age of 21, Povenmire began working with the animation cast behind Teenage Mutant Ninja Turtles. He began hopping around to other jobs as well, eventually landing a job as an animation director on the hit FOX show The Simpsons during the mid-nineties.[7] While working on The Simpsons, Dan met a fellow animator named Jeffrey Marsh.[9]
Dan received a job on the Nickelodeon show Rocko's Modern Life after showing the creator Joe Murray his five years of extensive work for Life as a Fish.[7] On Rocko, Dan continued to work with his now friend Marsh, who shared a similar sense of humor.[9] In 1996, he and Marsh won an Environmental Media Association (EMA) Award for writing an episode called "Zanzibar!" one of Dan's first career accomplishments.[5]
Dan and Marsh began to develop an idea for a show of their own in 1993 called Phineas and Ferb. Phineas and Ferb grew a plot that was based on Povenmire's childhood. At a Wild Thyme restaurant, Dan drew the first drawing of titular character Phineas on the butcher paper laid out for the table. This began a domino effect of different characters, and they both began pitching the show around. Though every network they went to turned it down due to its complexity, the two's stubbornness caused them to not give up on it.[10]
Family Guy
Marsh and he began to dispatch on their own separate ways of Animation, though still not giving up on Phineas and Ferb.[10] Dan went on to become a long-time and well-loved animator for the FOX hit Family Guy. There, he was given the role of most all of the songs, as well as animating a scene funny in order to gain comedy to a dry scene. He describes in experience on the FOX show as practically "entertaining themselves."[11]
Not giving up on Phineas and Ferb, Dan continued to pitch the show around throughout his work on Family Guy. However, he was still being bested by each network's worry of the awkward complexity they saw in the plot.[10]
Phineas and Ferb
Dan's persistence finally paid off. Marsh had recently returned from England, now going by the nickname "Swampy," and the two proceeded in pitching the show to Disney. At first, Disney was uninterested, though they asked to keep Povenmire's packet of the show. Povenmire considered it over, as that usually, as he stated, "means they throw it in the trash later."[7][9]
But Disney, however, thought otherwise, and actually considered the show. They asked them to "see if they could do it for 11 minutes," which they did, and then officially decided to pick up the show.[6] Now sixteen years after the initial creation of Phineas and Ferb, it was officially greenlit.[7]
Povenmire wrote a total of 11 episodes for the first season, directing nearly every one.[12] The show became a smash hit on the Disney Channel lineup, outranking shows like Hannah Montana and The Suite Life of Zack and Cody. Povenmire as well began voicing the show's main antagonist Dr. Heinz Doofenshmirtz.[7]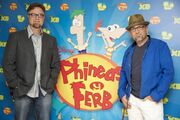 Like on Family Guy, whenever Dan goes to work on Phineas and Ferb, he enjoys it, pretty much working "just to entertain themselves." He draws 300 to 400 pages of work to keep the show going,[7] presenting each storyboard to the Disney executives to get each episode produced.[13] The songs he, Swampy and writer Martin Olson write every Friday are, as he says, "their jab at immortality"[7][13]
On July 14, 2014, it was announced that Disney Television Animation extended its overall deal with Dan to develop new projects.[14]
Post-Phineas and Ferb
On May 7, 2015, it was announced that after Phineas and Ferb concludes its run, in 2017, Dan, Swampy, and many people on the Phineas and Ferb crew, will premiere a new animated series entitled Milo Murphy's Law. Povenmire served on the 2020 film Scoob!, which was released on video-on-demand in 2020. He returned to the world of Phineas as co-writer, executive producer, and reprising his role as Doof in Phineas and Ferb The Movie: Candace Against the Universe, which was released on Disney+ on August 28, 2020 to positive reviews.
Personal life
As of 2012, Dan is married, with two children.[15] He has a young daughter named Isabella, whom he named the character Isabella Garcia-Shapiro after.[16] He has a cat named Sprocket, who lives a "double life" with his neighbor, in order to get two helpings of food. This appears to be the inspiration for character Perry the Platypus.[7] He also added his young daughter Melissa to the show as a young fireside girl, who made her first appearance in "We Call it Maze".
Background Information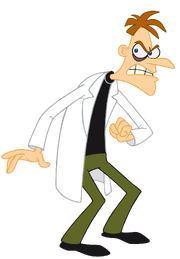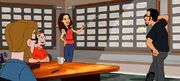 The city of Danville is named after him.
The character Danny is named and designed after him.
Isabella Garcia-Shapiro is named after his daughter.
His likeness is used in one of the announcers in "The Fast and the Phineas".
Also in "The Fast and the Phineas", a sign that one of the race cars crashes into is labeled Poven-Lube Motor Oil, undoubtedly a play off of his last name.
A doctor in the surgical theater shown during "Technology vs. Nature" resembles Dan.
The camera operator for "Let's All Dance Until We're Sick" in "Nerdy Dancin'" bears a resemblance to Dan and appears to be the same as the doctor in the surgical theater.
He appears with other staff in the episode "The Mom Attractor".
In "Backyard Hodge Podge" two people appear during Lawrence's speech resembling him and Swampy.
Episodes he directed
He was also one of the directors of Phineas and Ferb the Movie: Across the 2nd Dimension.
Episodes he wrote (story)
He was also the co-writer of Phineas and Ferb the Movie: Across the 2nd Dimension and Phineas and Ferb The Movie: Candace Against the Universe.
Episodes he wrote and storyboarded
Gallery
View the image gallery for Dan Povenmire.
References
External links