This article is about the theme park. You may be looking for the song.
"It's like Utopia, but with cheese!"
— Phineas describes the park

Cheesetopia was a cheese-themed amusement park created by Phineas and Ferb as their Big Idea of the day. It was constructed entirely out of cheese.
History
Concept and construction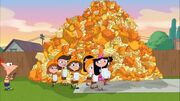 Earlier that day, Phineas and Ferb constructed a box-shaped "celebration-seeking rocket" containing a musical/break-dancing group, Little Saul and the Breakingham Palace Crew, to add life to all parties to which it was guided. But before they could show it to their friends, the rocket flew off to Doofenshmirtz Evil Incorporated due to Heinz Doofenshmirtz's great joy at being so close to victory. Per Buford's suggestions, Phineas and Ferb decided to build a cheese-themed park, using cheese as their building material. Once the last delivery of cheese needed arrived at the Flynn-Fletcher house, Phineas assigned the group of Ferb, Baljeet, Buford, Isabella and the Fireside Girls to the respective tasks of building the foundation of the theme park, voicing various cheese puns, and spreading the news of the theme park's unveiling.
Opening and vaporization
Upon completion, scores of people from across
Danville
came for the unveiling of Phineas and Ferb's latest project, dubbed "Cheesetopia".
Major Monogram
himself participated in the festivity and was in awe at the sheer quantity of cheese surrounding him. When Isabella announced that a cheese-eating contest was about to begin, he joined in with excitement, completely oblivous to 
Carl
's distress calls.
Although Major Monogram won the cheese-eating contest, his body became immensely swollen due to an allergic reaction. When he started walking around asking for a celebratory high-five the people in the amusement park started to run away from him in a panic while Candace, who was in the midst of trying to convince Linda to come home over the phone, looked onward in puzzlement at what happened to him. Eventually, Monogram was able to single-handedly scare everyone in Cheesetopia away and leave the park completely empty.
Following this, Cheesetopia was vaporized by Doofenshmirtz's "Vaporizer-Inator" heat ray during his fight with Perry the Platypus. Once the kids returned, Phineas realized that the cheese-themed amusement park had vanished completely. Buford then remarked it as "Swiss-picious", thus achieving a pre-set goal of managing 100 cheese-related puns in a day.
Attractions and features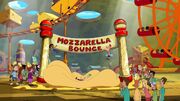 Cheese rollercoaster
Nacho Falls
Cheese carousel
Cheese pirate ship ride
Cheese hurricane ride
Mozzarella Bounce
Cheese Ferris wheel
"Be the Cheese" 4D Theater
Cheese grater ball game
Cheese bow and arrow game
Cheese-eating contest
Cheddar bees
Gouda trees
Ring toss
Whac-A-Mole
Gallery
View the image gallery for Cheesetopia.
Background Information
Community content is available under
CC-BY-SA
unless otherwise noted.