We'll work on it.
It has been suggested that this page, or a section of it, be extended.
Once the points are expanded, the user may remove this tag.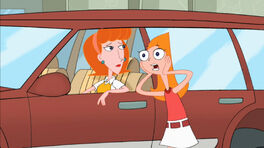 As the oldest child of the Flynn-Fletcher family, Candace is always left in charge by Linda. However, due to the many failed attempts to get Linda to see the Big Ideas, Linda has begun to think Candace has gone insane and it's all in her imagination. However, Linda sometimes sees the Big Idea but assumes it's just pretend or modern art, although she participates in some at times. ("Rollercoaster", "Interview With a Platypus", "The Bully Code", "Phineas and Ferb Get Busted!", "She's the Mayor", "Phineas and Ferb's Quantum Boogaloo", "Tip of the Day")
Candace's Opinion of Linda
Candace loves her mother very much but her determination to bust her brothers has put strain on their relationship. She constantly tries to get her mother to bust Phineas and Ferb but by the time she comes, the invention is usually gone and Candace is stunned. She usually gets sad if there is no invention present, or when Linda thinks she's imagining it. Candace is almost always begging to get Linda to come every day. She sometimes thinks Linda sees the invention as it is, but is stunned when she learns what really happened. ("The Fast and the Phineas", "I Scream, You Scream", "S'Winter", "Invasion of the Ferb Snatchers", "Mommy Can You Hear Me?", "Perry The Actorpus") Candance has at times tried to push her determination aside for her mother, and has also made attempts to show her love for her mother. (Mom's Birthday )
Linda's Opinion of Candace
Linda loves her daughter but has always been irked by Candace about the Big Ideas. She thinks Candace is crazy and imagining the invention and making it up, and is called several times to come home. But she knows Candace is having fun with her brothers and usually asks her if she had fun. Sometimes, Linda grounds Candace for doing something wrong, or she believes Candace did the wrong thing. ("She's the Mayor", "Split Personality", "Skiddley Whiffers", "The Secret of Success", "Candace Gets Busted")
Linda can sometimes get angered by Candace's controlling attitude, and by the time she arrives, she suspects she did something bad. She can sometimes dismiss Candace for doing things that are not nice or if she's being rude. She sometime also takes Candace away with her for another example ("Rollercoaster", "One Good Scare Ought to Do It!", "Phineas and Ferb-Busters!", "We Call it Maze", "Skiddley Whiffers", "Bullseye!", "Cranius Maximus" "Doofapus").
Even when Phineas and Ferb back up Candace's truthful claims of their adventures (such as building an elevator to the moon and exposing Mittington Random's plan of stealing Klimpaloon for his sales gimmick) and provided actual evidence to prove them all, Linda still doesn't believe her kids as she thinks that it's all their "imagination", much to her kids' chagrin. ("Traffic Cam Caper", "The Klimpaloon Ultimatum")
Gallery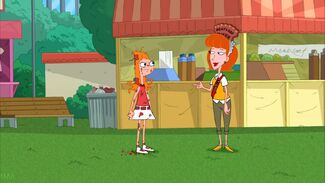 The image gallery for Candace and Linda's relationship may be viewed here.