This article is about French fireside girl Brigitte. You may be looking for Vanessa's punk friend Birgitte.
Brigitte is a French Fireside Girl who was once in love with Buford.
Biography
She fell in love with Buford, while in Paris. They were also seen having tea at a cafe in Paris. It can also be assumed that she was born in France. She is at least 'vaguely interested' in Buford, as she stated so in "Buford Confidential", and then slapped him and said that she'd never be seen with him in front of her friends to keep from spoiling her 'image'.
It can be assumed that she is the leader of her Fireside Girls troop.
Relationships
Buford Van Stomm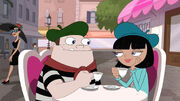 In "Buford Confidential", Brigitte displayed signs of having a crush on him. Buford also learned to speak French simply because Brigitte said it was easy. He didn't want anyone to find out about this, however.
Isabella Garcia-Shapiro
Isabella helped her and her troop earn the North American Tracking Patch.
Josette and Collette
Josette and Collette are the members of her troop. It can be assumed that there are other members of Brigitte's troop as well.
Just like the members of Isabella's troop follow her orders, Josette and Collette follow Brigitte's.
Physical Appearance
Brigitte's Fireside Girl outfit is a long-sleeved shirt with a beret, a red collar and cuffs, and pleats on the skirt. Her casual attire is a blue long-sleeved shirt, checkered back and blue skirt, long socks and blue shoes. For swimming, she wears a two-piece swimsuit with a red stripe on the top.
Background Information
She is the second Fireside Girl to be seen in casual attire.
She is the first Fireside Girl known to wear long sleeves for her uniform. The difference in uniform compared to that of Troop 46231 is presumably because Brigitte's troop is based in France.
Community content is available under
CC-BY-SA
unless otherwise noted.