This article is about the creature. You may be looking for the song.
"He goes barefoot, so he's always free to stomp ya! He carries a big stick so he can whomp ya! Sharpens up those teeth so he can chomp ya!"
— Lines in "Bigfoot"

Bigfoot is a large hairy apelike creature that lives in the forest.
Biography
One day, Grandpa Clyde sings a song about Bigfoot to Phineas, Ferb, the Fireside Girls and other kids. Later that night, Phineas tells a scary story about Bigfoot. The kids are scared, and then "Bigfoot" appears. Phineas then reveals that it was just Ferb controlling fake Bigfoots. Candace however, gets annoyed by the prank. Phineas then warns Candace that her screaming might attract a real Bigfoot. Candace then mocks him, saying that will never happen. As she says this, a real "Bigfoot" approaches Candace from behind. She sees him and asks what it is made of, asking if it was "Popsicle sticks and glitter", but Phineas tells her that it was a real Bigfoot. It then eats Candace, shocking everyone and making them run away, screaming. Candace and Grandma Betty Jo then come out of the back, laughing. They leave to get the kids and drink hot cocoa.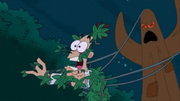 Dr. Doofenshmirtz
hears the screaming and tries to find where it is coming from, but falls off his vacation home. Later, he comes back up covered in leaves. His date thinks he is Bigfoot and knocks him off. She hears his screaming and realizes she knocked off Dr. Doofenshmirtz. After the kids left, he falls on the strings of Phineas and Ferb's Bigfoot. He tries to clean off the leaves but the Bigfoot dummies by made Ferb appear making Doofenshmirtz run away in terror.
Candace is then seen telling the kids that she got them, saying only immature people would believe in monsters. She then sees Dr. Doofenshmirtz being chased by the Bigfoot dummies. She screams and runs into the house. The kids look and see nothing. Baljeet comments that she overacts too much, and everyone agrees.
Physical appearance
The actual Bigfoot has not been seen yet. The fake ones controlled by Ferb are brown with orange feet and red eyes. Betty Jo's Bigfoot is brown with lighter brown hands and feet.
Appearences
Community content is available under
CC-BY-SA
unless otherwise noted.