Agent F is a fox agent who first appeared in "Cheer Up Candace".
Trivia
According to his secret file, he can sneak his way out of any trap, due to his wily nature. He can build efficient weapons/gadgets out of common items. He plays video games during his free time. ("Where's My Perry?")
When he rolls up his fur, he has bulky arm muscles. ("Phineas and Ferb Save Summer")
Gallery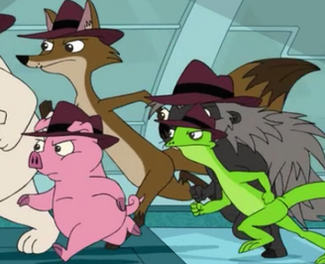 View the image gallery for Agent F (fox).
Appearances